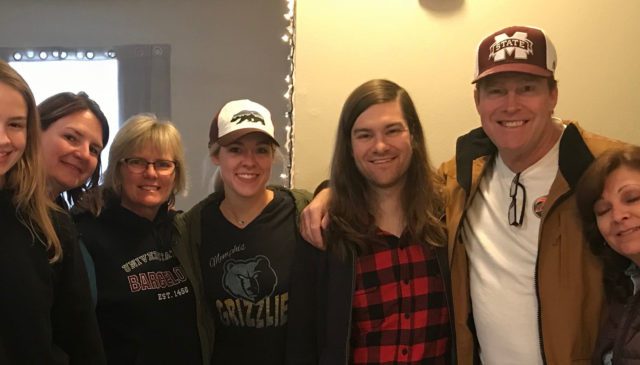 Dysfunction in my family of origin went unnoticed by me until I started college. Silence in my childhood home was only interrupted by the most mundane of conversations – "what's for dinner?", "Unload the dishwasher before I get home.", "Get your shoes before you miss the bus." My mother had a new arts and crafts hobby each week. My daddy found as much as possible to do outside to get out of the house. I read books…a lot. Country music played on the radio in the background. The only thing I ever remember us doing as a family was square dancing. (True story. It was a small town. It's part of my past just like braces.) Even that involved couples, so really we only rode in the same car to the event.
We didn't take family vacations. We didn't attend sporting events together. We didn't attend church together. We didn't play board games around the dinner table. We existed as individual islands within four walls. I had no idea that families actually did things together until I was invited to the homes of different friends, and I witnessed family discussions, planning, devotions, etc.
When my ex-husband and I met, we discovered that we both had similar stories of broken homes, disappointment, and addiction in our families. Both newly sober, we were determined to break the cycle of brokenness. And we did, for a time. We created a home and a family for his two children, and planned a future for us, them, and possibly more children. We worked hard on ourselves individually so that we could be as emotionally healthy as possible in a family of our own. We made mistakes. We made amends.
More than ever before, the dysfunction in each of our families of origin was prominent. As our recovery taught us, we learned to accept, take what we needed from it, and leave the rest. Some of the time, old ways overrode new ways. We made an effort, and we didn't quit when we stumbled.
Somewhere along the way, we lost the "why" of us among the living of us as a family. Our time on the path together was ending. We were sad, disappointed, and confused about the situation in which we found ourselves. As most wounded people do, we took a few emotional shots at each other. We tried to blame, and finally accepted. We realized that it was time for us to move on individually. After watching my own parents go through a horrible, ten year battle of a divorce, I was determined that was not going to be our fate. He didn't want to recreate the divorce of his parents either. So we found a place in the middle, and we went about the business of unbecoming a family.
We were a couple for 15 years, married for 14 of them. Each of us struggled to learn who we were without a spouse again. He now had three children, all of whom I considered mine. I had loved the older two for most of their lives, and I birthed the youngest. They were never my "stepchildren"; they were simply my oldest two. Trying to imagine myself as a single mother of one instead of a family was the hardest part. He struggled financially as the economy was in a recession. So did I.
His mother was still my mother. My dad was still his. Family of origin related to a divorce is awkward. Holidays are hard. We celebrated separately. Sometimes I celebrated with friends.
Life goes on. He met someone new, and wanted to introduce her to our daughter. I wanted to tell him I was dating women. Outside forces tried to create chaos between us, but we eventually remembered who we really are. We yelled a few times over the phone at each other. We calmly discussed the children at other times. He asked about my dad. I took his mother to dinner. He created a beautiful life with his girlfriend. I dug deeper and deeper trying to learn who I was. The children grew.
In 2013, he was involved in a serious accident that almost took his life. He was crushed from the waist down and in critical care at the hospital near my home. As I told my daughter, I could see fear take over her eyes. When I asked if she wanted me to go with her to the hospital, all she could do was nod.
And then I knew. I knew what family was. I knew I needed to be there for her, for him, for our older two children, for his mother, his father, his stepmother, his girlfriend, and his siblings. I knew, in that one split second, that family isn't made with marriage certificates, divorce decrees, custody agreements, or even DNA. Family is made when you care more about someone's well being, and the well being of those they love, than you do about yourself.
Love is so many different things at any given time on the planet. Romantic, young, exciting, new love is the easiest, most addictive love. Married, bill-paying, mowing the lawn love is a little harder. Strange, awkward, after the divorce, caring, not romantic love is virtually nonexistent. And I knew. I knew this family is the legacy we are leaving our children. This non-traditional, outside the box, crazy, loyal, suit up and show up family is the gift that we gave to our children.
His accident brought all of us back together for what is real. My older daughter spent weeks sleeping at my house so she could spend days with her dad in the hospital nearby. His mother and I went to dinner more often. Since then, each of our lives has taken twists and turns-sometimes hairpin curves unforeseen.
He has taken steps to fulfill his lifelong dream of living on a mountain. His girlfriend has recently beaten stage IV cancer. His parents have both passed on, along with one beloved nephew. I have earned a second degree, loved and learned, watched some of my own family of origin walk away, and married again. He and his girlfriend, together with my wife and I, have attended college graduations, weddings, and other family events with our children. All four of us have survived our youngest daughter's teen angst and torture together. We have cried over the phone together, and we have celebrated joy together. He sends a text every year on my recovery anniversary, and on Mother's Day. I try hard to be diligent about doing the same. I am grateful for the friendship and care that he and I have forged through the years. We most assuredly did it better than our parents.
Recently, my wife was diagnosed with cancer. I reeled, swinging hard from one emotion to another. The phone rang. I answered from the sofa sitting next to my wife. He said, "I saw she was at the cancer walk today. What's going on?" I spoke haltingly, with false courage, about her diagnosis. And he knew. He knew about family, about caring for someone else's well-being. He knew about the legacy.
My entire life is littered with the remains of the mistakes I've made. I've chosen things, people, and places for all the wrong reasons at various times in my life. But the time that it really mattered, the time that it meant family, I picked a damn good baby daddy.