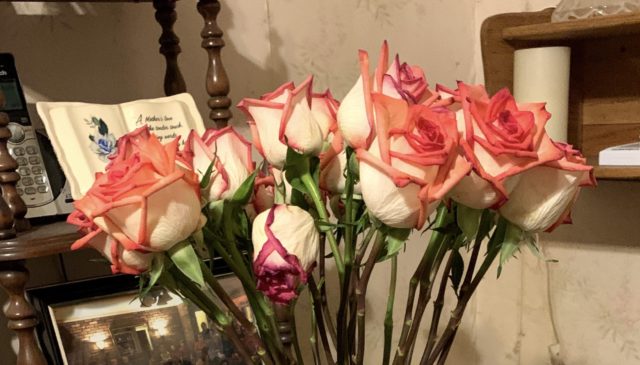 I brought the roses to her from Memphis on Tuesday. She couldn't smell them so I rubbed one of the blooms across her cheek so she could feel how silky it was. They are so beautiful in the vase sitting across from her bed.
This morning when I awoke to go into the kitchen, I noticed one bloom bowing its head toward her. I wondered if it was a sign.
Our tiny little bird spread her wings tonight and flew. She was right in the middle of the people she loved most, listening to stories of her adventures as experienced by each of us. Had she been able to speak, she would have been adding her voice to each one of those stories. She is the reason we all exist, and we were lucky to have her as the matriarch of our family.
The stroke took her ability to enunciate, and to swallow, and to do anything for herself. It was a privilege to do for her what she couldn't do for herself. She gave my cousin and me one last gift at her last hoorah at 3:30 a.m. on Friday when she sat up and looked at us both and said, "You have been a big help, and everything is gonna be alright." She spoke the words as clear as a bell. Twice. He and I gawked at each other when she said it. And they were the last words she spoke.
Her roses kept watch over her, and they chose an ambassador to bow to her as she made her exit today. My heart will sing in her memory the words that will forever remind me of her life – "I hope that I see the world as you did because I know a life with love is a life that's been lived."
Everything is gonna be alright, Mimaw. Right now and always, Myrtle Irby, RN, my grand, the great. 💔